As we venture out west on our summer road trip, we are headed into the far Northwest - the last major town before hitting the Canadian border, to be precise. That's where we'll check in with the 22 coworkers in our Bellingham office. Having just joined the Arrowhead family last year, the Bellingham office is ready to share its history and why they love their town. Let's get to know the team running the Trucking and Transportation Program.
Bellingham is well-known for:
Ranked least sunniest city in America – the sun shines only 35% of the time
Named snobbiest beer city in America by priceonomics.com
Population 85,146
$317,500 median home price
21 miles to Canadian border - last major city before the WA coastline meets the Canadian border
91 miles to Seattle
Western Washington University is based here
Home to team relay race Ski to Sea. Seven legs: cross country skiing, downhill skiing (or snowboarding), running, road biking, canoeing, mountain biking and kayaking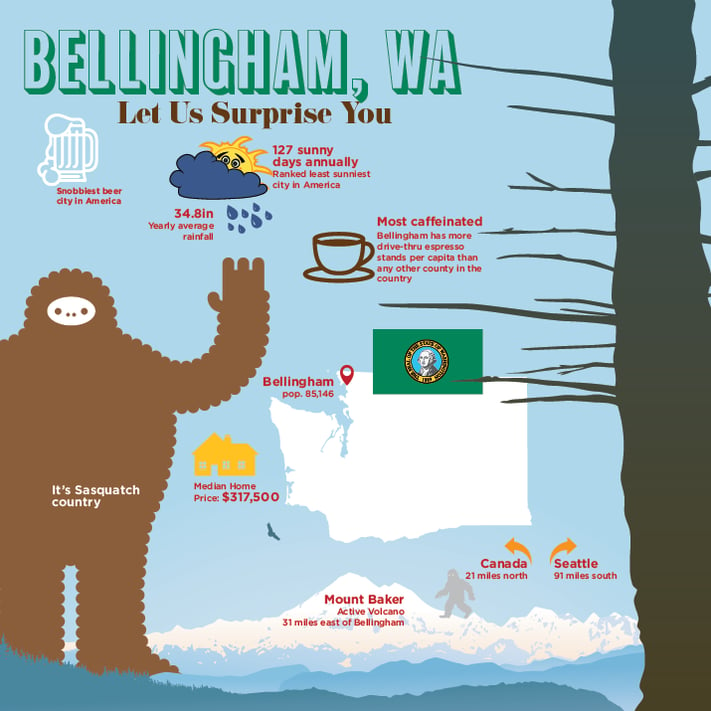 Tight-knit group
Even though the company Bellingham Underwriters, Inc. wasn't officially formed until 2006, its history really began in the late 1990s. Six people had already been working together at another managing general agency in the Seattle area. Those original six were Ken Robinette, Jeff Billingsley, Connie Lem, Eric Dietzel, Judy Cobb and Barbara Anderson.
When Ken transitioned from that agency in the late '90s to Swett & Crawford in Bellingham, he knew he wanted to keep a winning team together. This core group, and the people they've hired since, has become more like family over the past 19 years. Check out the timeline below to see how their story begins and how they've built a fun work culture with very little turnover.
1997 – Current Bellingham PCL Ken Robinette started an underwriting management office with Swett & Crawford in Bellingham
2006 – Amicable separation from Swett & Crawford
2006 – Ken started new Bellingham Underwriters, Inc. company
2015 – In May, Brown & Brown acquired Bellingham Underwriters and put the company under Arrowhead's management. The company then changed its name to Bellingham Underwriters, a division of Arrowhead General Insurance Agency, Inc.
"Six of us have been working together for over 25 years," said Connie Lem, Bellingham Underwriter's operations leader. "We've hired four people in the last three years because turnover is very low here. Over half of our people have been here over 15 years," she said proudly. "People leave by retirement or moved away because a spouse is relocating."
"Well," she continued, "We had two people leave to pursue life dreams. One wanted to get out of insurance but ended up coming back." Connie reminisced that those two employees ended up marrying each other. "Yep, he met his wife at the office," she said.
Connie's referring to Jeff Billingsley and Rachel James Billingsley. Jeff is currently one of their senior underwriters.
When asked what the benefits are working with such a small and tight knit group, Connie said it's a bit like a double-edged sword. "If you have anything private, well that's just too bad. Everybody knows what your business is," she laughed.
Eric Dietzel, an underwriter who was also part of the original six back in the '90s, agreed with Connie on the double-edge sword. But overall, having the strong friendships is a plus. "You see so much into each other's lives – getting engaged, having kids. We really are like a crazy family," Eric said.
"Yeah, and just like real family you can't get away from these people," Connie teased.
Eric agreed. "We've worked with each other so long, it's just a strong bond in the office."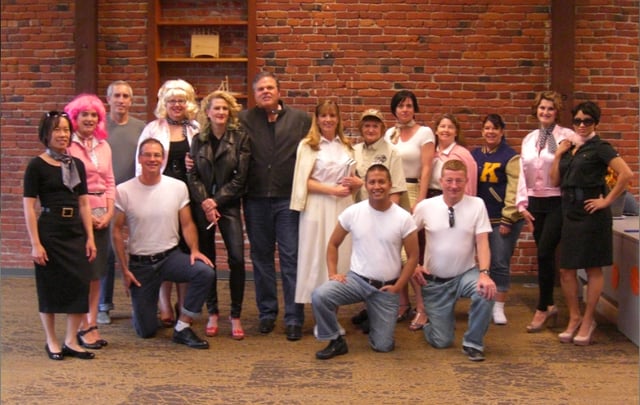 2014 Office Halloween - Front Row Left to Right: Scott Young, Dave Carrillo, Dan Hooker
Back Row Left to Right: Connie Lem, Susan Wright, Ken Robinette, Nicole Borden, Dianne Muljat, Craig Herter, Lisa Diefel, Judy Cobb, Angela Yates, Heather
Chandler, Deanna Holcomb, Luda Hagins, MJ McLean.

Bonding with annual days of fun

To keep the bonding going, Connie has planned the team events over the years, which are called annual days of fun. On either side of their office are a bowling alley and indoor climbing gym, so naturally they've ventured into both for a little team building. They've also played laser tag, gone go-cart racing and attended an improv theatre. There's been whale watching and an excursion to Sousa Island, part of the nearby San Juan Islands. They've done wine/beer and cheese tasting and spent the afternoon on a private docent-led museum tour showcasing 35 years of work from a local Bellingham newspaper photographer.
| | | |
| --- | --- | --- |
| "And we have a holiday party every year," Connie said. "We open for a few hours, then close early, have an in-office lunch and a Secret Santa gift exchange." Afterward, she said, everyone picks up their family and they all meet at Ken and Sally Robinette's house. | iii | |
| | | 2014 Laser Tag |
"And we have more merriment in their wonderful home doing family stuff with the kids until they kick us out," she laughed. "We do this every year at Christmas, and it's so fun to see how everyone's kids have grown and to catch up on what the spouses have been up to."
So social
Keeping up the social bonding doesn't stop at the events. This team shows a wonderful office culture on their Facebook page, administered by Lisa Diefel who's been with the group for 18 years. They feature different members from their office and they are even putting a few TBT photos up there. Visit the page and be sure to like it to keep up with the team in Bellingham.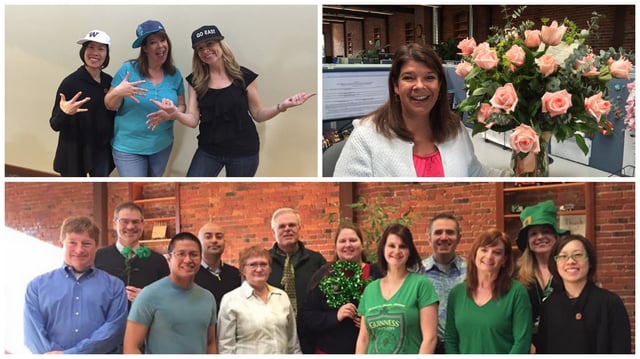 Charity
Connie explained that even though they don't organize charity events as an office, many people do support different charities. "We support and encourage each individual team member to participate in charity events that they believe in," Connie explained. Any volunteer hours an employee gives to an organization is matched $20 per hour by Bellingham Underwriters. "Employees give time and the company gives cash," Connie said.
Charities that the Bellingham team have contributed to over the years include The Humane Society and the Bellingham and Ferndale Food Bank. Nicole Borden, an underwriting account manager and one of their recent four hires, dedicates her free time to the American Cancer Society through Relay for Life. Additionally, coworkers have volunteered at WeSnip, a local pet care group that provides high-quality spay and neuter service to low income pet owners. Another animal charity teammates have helped is Rescued Hearts which provides foster homes for animals.
Angela Yates, an underwriting account manager, has worn many hats over the years, from reception to IT systems administration. Her favorite charity is Futures NW, providing students from underserved communities with academic and financial support to achieve in college and beyond.
Pretty cool digs, Bellingham
Should you ever visit the Bellingham office only 21 miles from the Canadian border, you'll notice they have a pretty cool setup for an office. Ken acquired the building back in 2009, and it's now over 100 years old. They worked with an architect who wanted to maintain the original features, so it took seven months to gut and renovate to retain the originality of building with the brick walls and wood beams overhead.
| | |
| --- | --- |
| Downstairs Kitchen Area | Upstairs Office Area |
Overall it is 12,000 square feet with two stories and features an open concept space with no walls, except for three offices. All the desks are clustered with very low cube walls. Since the bottom floor doesn't have any windows, they had the middle section of the floor removed, opening the space up to the upper floor and letting light in. This is where their kitchen area is.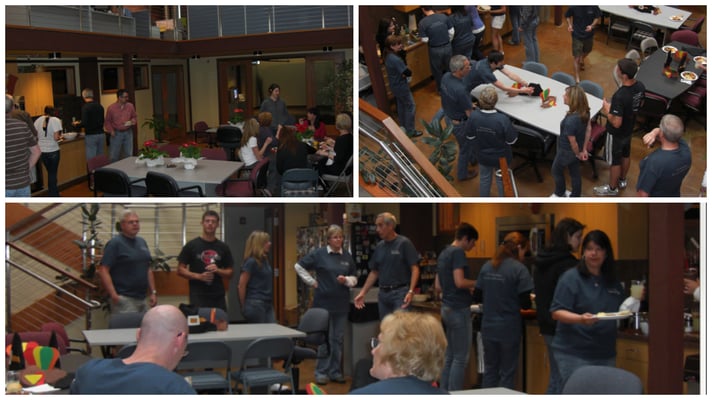 Upper left photo: 2011 Brunch. Upper right photo and lower photo: June 2011, Retirement party for Peter Browne.
They made t-shirts and had a Thanksgiving lunch since that was Peter's all-time favorite meal. T-shirts read: It's Insurance. It's not rocket science.

Cool town, minus the sunshine
Unlike our Denver office, which averages 300 days of sun, Bellingham has the least amount of sun in the country, shining only 35 percent of the time. Because they are so far north, they have limited sun in the winter: the sun sets around 4 p.m. and rises again at 8 a.m. In the summer, they have very long days with the sun rising at 5 a.m. and setting at 9:15 p.m.
And what about the rain? "We get our share of rain, but it's comparable to Seattle," Connie and Eric agreed. "We have temperate weather," Connie noted. "It's not super scorching hot and it never really gets that cold. We haven't had snow in a while. Maybe at most a week in a year."

Maybe all those long dark winter days are what make the townspeople want to hunker down with a beer - but not just any beer. In 2015, Bellingham was named by Pricenomics as the snobbiest beer city in America. They found that 92% of bars in Bellingham do not serve either Bud Light, Coors Light or Miller Light.

Drone footage over Bellingham shared on Bellingham's Facebook page
Eric agreed it's difficult to find those beers anywhere in town. "If you order a Bud Light, people will look at you 'like are you serious?'"
He also said that within a three-block radius of their office are five to six craft breweries, with one right across the street and another on the back side of their building. And this is where we need to provide a drawing of the Bellingham office location because so far we've learned there's a bowling ally and indoor climbing gym on either side and a brewery across the street and behind them. How do they get any work done?
Touring the town
The Bellingham community is really big about supporting local businesses, Connie and Eric said. From farms to shops and restaurants sourcing foods from local vendors, it's got to be local. Yet they agreed there are only a pocket of areas with good restaurants. "Maybe it's the college element?" Connie questioned. Bellingham is home to Western Washington University. Eric noted that it might be the college students along with the large retirement community. "When I first moved here, this place was one of the top 10 cities for people to retire," he explained. So it seems the budget-friendly restaurants are catering to the fixed-budget crowd.
One place that is clearly not offering budget food is the The Willows Inn on Lummi Island. Connie said it's been around forever. In fact, her husband's grandparents met there. It's where poor people used to live because it was a cannery town, she explained. Now The Willow Inn features a James Beard award-winning chef who creates a dining experience not just food. "It's not the best meal I ever had," Connie confessed. "It's just uniquely created food and presented in an interesting way, but costs about $300 to $400 per person." Fortunately, the team was able to have lunch there before it was famous and expensive.
Eric suggested visitors save their cash and go to The Oyster Bar. "It's for locals and has a cool wine cellar and a view of the bay. It's just so beautiful," he said. "There's water on one side and mountains on the other."
Speaking of the backdrop for this city, Connie says people who visit their area are usually in awe of how beautiful and green it is and how big the mountains are. From their office, the waterfront is 15 minutes away where canoeing, kayaking and yachting are all very popular. Then to the east about an hour and a half sits Mount Baker, which is the go-to spot in the winter for snowboarding and skiing.
Connie said the outdoor lifestyle draws that kind of crowd to the Bellingham area, including many people in their office. "Ken is a hang glider and Scott Young, an underwriter, did a 50-mile ultramarathon." Plus, he does the annual seven-leg Ski to Sea relay race event where his team ranked first. And surprise! He's also an avid mountain biker! Underwriter Lisa Diefel is a hiker and avid runner - seven full marathons, 20 half marathons and two 30k's, just to name a few.
Although Connie calls herself an indoor person, her weekend activities are pretty awesome. Her dentist husband is also a private pilot. On the weekends they fly his Cessna out to the archipelago San Juan Islands pretty regularly. "The average person drives 50 minutes to the ferry, then a two-hour ride to the islands," Connie explained. "It takes us only 15 minutes!"

Over the years they've taken coworkers with them on flights for the beautiful aerial views. They also take weekend trips to Eastern Washington wine country. "The drive is five hours but the flight only takes two hours in the Cessna. I love it because we are home by Sunday at 3 to do laundry."

iii

Facebook profile photo of Connie Lem and her family
For those who may not be into all the outdoor activities, Eric says Bellingham has a huge arts community. The Mount Baker Theatre is a beautifully restored venue for plays, live music and comedians. It's a smaller venue but it draws quite a few big names such as Pearl Jam, Elvis Costello, Chris Rock and Margaret Cho, to name a few. He said the local museums have great exhibits as well.
Another must-see venue is the premier improv comedy club, Upfront Theatre. It's owned by Ryan Stiles from the TV show, 'Whose Line is it Anyway?' "He lives here!" Connie exclaimed. "I saw him once!"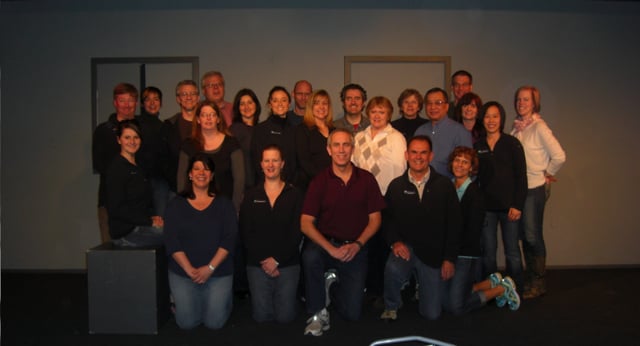 2012 - Upfront Theater improv event. Back Row: Dan Hooker, Angela Yates, Jeff Billingsley, Craig Herter, Rod Redfern, Eric Dietzel, Barbara Anderson, Scott Young, Rachel James. Middle Row: Luda Hagins, Heather Chandler, Angela Anaya, Coree Eaton, Lisa Diefel, Judy Cobb, Boyd Blanchard, Susan Wright, Connie Lem. Front Row: Deanna Holcomb, Dianne Muljat, Ken Robinette, Chuck Bolton, Sally Robinette
Connie said you'll find a lot of business professionals in Bellingham even though the dress code is casual everywhere and some people are a bit granola-like. They're pretty casual themselves in the office since everyday is jeans day for them. "Bellingham is just a great place to live," she said. "There's a good cost of living and it's a great family area."
With such a tight-knit crew part of our organization, we are lucky to be working with folks who really embrace the idea of "work family." Welcome to the team!
---
Thank you for visiting the Bellingham office. Tune back in next month in August when we end our summer road trip and visit our California offices.