We've put the pedal to the metal as our summer-long road trip continues. This month we're heading west where we will visit our team of 40+ in Denver, CO. This is home to multiple programs that began the rebranding process on July 1, changing their name from OnPoint Underwriting to Arrowhead. Let's check in with the folks from the mile-high city and learn about their team.
Denver fun facts:
Nicknamed the Mile High City because its elevation is 5,280 feet - exactly one mile
Denver averages 300 days of sunshine
Average amount of snowfall per year is 55 inches
Home to three-time winning Super Bowl champs, the Denver Broncos
Ranked number one in 2015 as Forbes' best places for business and careers
Home to Molson Coors Brewing Company
Setting of popular 1980s soap opera, Dynasty
Headquarters to United Airlines, Kroger, MapQuest and Lockheed Martin Corp.
Former Secretary of State Condoleezza Rice went to University of Denver
Yes, marijuana is legal in Colorado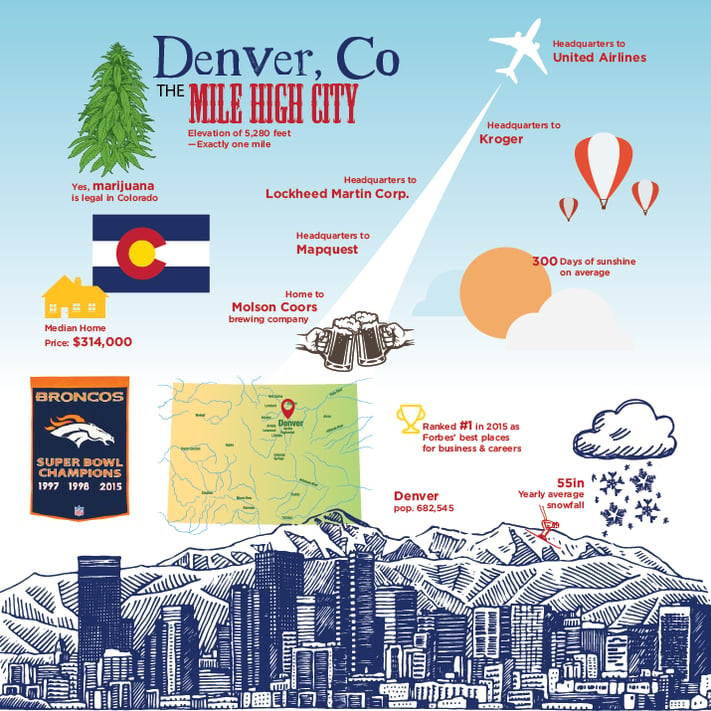 Getting Higher in Denver
Yes, recreational marijuana is legalized in Colorado. But that's not why visitors have a hard time breathing when they visit. We're talking about the city's high altitude. (The cure - stay hydrated!) While Denver is located precisely one mile above sea level, it's low enough to be located at the base of the Rocky Mountains about 65 miles away. (If you are curious how the marijuana thing works in Colorado, check out the Denver Post's guide here.)
A common misconception noted by our Denver teammates is that first-time visitors assume the city is in the mountains and features dusty roads and Old West scenery from the gold rush days. Sorry to burst bubbles, but Denver's a major metropolitan area (10 surrounding counties), has a population of 2.9 million and is flanked by flat land to the east and the Rockies to the west.
Denver locals often remark how drastically the weather can change over a day. It's not uncommon to have 40-degree temperature differences from one day to the next. Denver also boasts more sunny days per year than the self-proclaimed Sunshine State, Florida... even with an average of 55 inches of snow.
The office has closed quite a few times over the years due to blizzards. They follow the school districts - if they close the schools, they close the office. The good thing is that the snow melts pretty quickly (must be all of that sunshine). One thing that may have caused a cloud cover over our Denver office is the changes they've gone through over the last few years. Let's check in to see how they've been able to keep their dispositions so sunny.
"The one thing constant here is change." – said everybody
Have you ever watched the movie Ferris Bueller's Day Off? There's a scene where a student tries to explain to the teacher why Ferris isn't in class. (Get up to speed with the clip here.) Getting the history of the OnPoint office is a lot like that conversation – hard to follow. To help break down the dates and names have a look at the timeline below:
1987 – CIS Tribal Program founded by Bob Hallameck
2004 – Risk Cap (Current Affiliate Programs and no affiliation with CIS) was purchased by Beecher Carlson
2009 – Beecher Carlson purchased CIS Tribal Program from Bob Hallomeck
2009 – Beecher combined CIS and Risk Cap programs, forming a new company, OnPoint Underwriting
2013 – Brown & Brown purchased Beecher and acquired OnPoint Underwriting
2013 – Brown and Brown placed OnPoint Underwriting under Arrowhead management
2014 – OnPoint claims team joined ACM
2016 – Effective July 1, OnPoint Underwriting Tribal rebranded to the Arrowhead Tribal name
2017 – Moving to new office (In a blended office with Beecher, Arrowhead, OnPoint and ACM)
Where to start
Looking at the timeline above, we can clearly see the Denver team has experienced a lot of change over the years. Let's dive into their story three years ago. It was July 1, 2013, and Scott Marshall, CEO of American Claims Management (ACM), took on the additional role of president of OnPoint Underwriting after Brown & Brown's acquisition of Beecher Carlson.
"I was looking for some diversity from ACM, so this was perfect," Scott recalled. The OnPoint team had a bumpy start following the transition away from Beecher Carlson, he added. During the Brown & Brown acquisition, OnPoint lost its company president and backroom support such as IT, accounting and marketing. "That's a pretty big challenge to not only introduce them to a new culture, but also to do it with very limited operational, accounting, marketing and IT staff. It was tough."
The first thing he did was to get communication rolling with the senior staff, pointing out the positive side of the integration. "A lot of great people were united because at the time OnPoint was pretty siloed." Now they're collaborating on a regular basis, Scott said.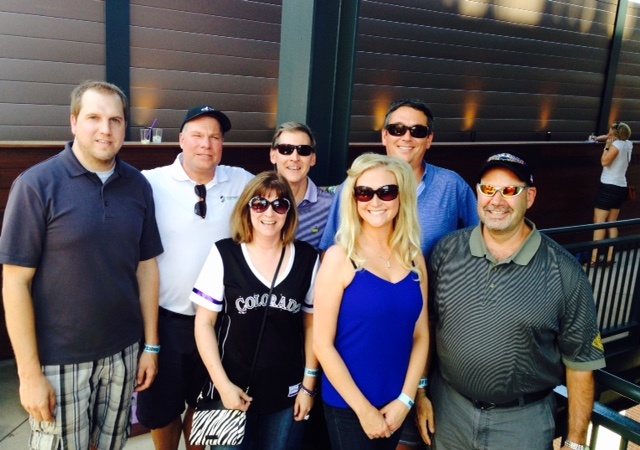 Team outting at Rockies baseball game - Back row, left to right: Eli Swoope, Scott Marshall, Paul Boehm, Brett Barnsley.
Front row, left to right: Maureen Seifert, Melissa Claypool, John Sodia
Denver knows how to roll with the punches
"Change is definitely prevalent in this office," remarked Paul Boehm, senior vice president of Tribal. Joining the team in March 2015, Paul quickly learned about all the transformations the team had undergone. "The change management here has been crazy. But what they've been able to accomplish by sticking together as a core group is impressive."
Team bowling event- left to right - Terry Leikam, Melissa Blea, Melissa Claypool,
Eli Swope, Whitney Balaun

Team bowling event – Carol Kats, Janet Cooke, Maureen Seifert, Melissa Claypool, Beth Poling, Ethan Swancer, Melissa Blea, Glenna Cook, Paul Boehm, Richard Poling, Sue Lautenschlager, Uri Salcedo, Dawn Sullivan, Sheryl Nevotti, John Sodia, Terry Leikam, Abbie Springer, Judi Yacovazzi, Janet Walker, Terri Bowden, Gary Jenkins, Whitney Balaun, Mark Gaarder, Eli Swope, Cortney Copp, Becca Mollman
Richard Poling, managing director of Affiliate Programs, agrees. "With the OnPoint team it doesn't matter what program you're in, the people in the office all use the same systems and have a great deal of interaction. We still do things independently but there are a lot of friendships and communication here."
"We're continuing this tradition of change with new branding, a new product and a new carrier, all effective July 1," Paul said about the Tribal Program. "Rebranding OnPoint to the Arrowhead name helps us take advantage of the synergies with resource sharing and leveraging the name with carriers," Paul said. "The name is coincidently great for the Tribal program, and the Arrowhead name definitely has carrier klout," he added.
Not all OnPoint programs are changing to the Arrowhead name this year. Richard explained he plans on eventually moving all of his five programs over to the Arrowhead name, with the Security and Alarm Program being the first. "We had a carrier change with that one, so it was a good time to change all messaging and materials with a whole new marketing effort."
Communicating change with clients is key
In March this past year, the Tribal team met with their key brokers at a Las Vegas conference to prepare them for the July 1, 2016 changes.

Maureen Seifert, vice president of Tribal Claims, agreed that Arrowhead's name with the Tribal Program is a good fit. But that doesn't make the transition any easier, she said, as they update email addresses, voicemail messages, business cards, letterhead, website, marketing and trade show materials.

iii

Visit the Arrowhead Tribal Program site
Maureen will have been with the Tribal program for 20 years this November; she too has experienced multiple name updates over the years, from CIS to OnPoint to Arrowhead and ACM for the claims team. She noted the biggest hurdle the team has to overcome with all of these changes is their main competitor telling clients that the Arrowhead Tribal Program is not stable.
"Actually, it's the opposite," Paul said. "We're making improvements to the program, and the connection to Arrowhead helps us do that. This is strengthening our product."
He explained that the Tribal Program signed on with a new carrier, Old Republic, and they are revamping their product to be more innovative. Scott added, "Finding a carrier to be innovative for this product is difficult. Old Republic has 60-70 years under their belt, but they're definitely bringing innovation to the product. They just started this program, so we have a blank canvas."
Scott agreed that OnPoint's move to formally join the Arrowhead brand helps them leverage Arrowhead's 30+ years of experience, a nice reputation in marketplace, deep penetration in distribution and solid carrier relationships - all which help the Tribal team to innovate and grow.
ii

Paul added a recognition for the Denver team regarding how well they've focused on clients without any missteps, in spite of the changes. "The people here may have switched jerseys a couple of times, but they're still the same. It really is a testament to what they've been through. They just plow ahead and are successful and make it happen."

2016 Midyear Tribal UW strategy meeting-clockwise from front left: Kerry Daly, Paul Boehm, Bob Hallameck, Carol Kats, John Sodia, Melissa Claypool, Scott Marshall, Brett Barnsley, Ashley Gronquist
New digs early next year
What's the next change on the menu for the Denver team? "We're moving in February," said Melissa Claypool, operations manager. "Construction starts September. The space was completely gutted, so we can design it exactly how we want. It's a blank canvas."
Mark your calendars because in February 2017, the Denver office will be moving to 8000 E. Maplewood Ave. Building # 5, Greenwood Village, CO 80111. The new office is 2.2 miles from their current space and offers great amenities including an on-site fitness center with showers/lockers, a beautifully updated on-site training room for up to 50 people, an on-site café with a new outdoor patio, a complimentary shuttle bus that takes employees to a nearby strip mall with lots of food choices, a landscaped outdoor pavilion and close proximity to the Arapahoe Light Rail station.
CHECK OUT THE NEW DENVER DIGS >>
Melissa has been the liaison between all parties involved on this project and has enjoyed working on the design with the architects. She's most excited about the new amenities, including the fitness center and the onsite café. "The onsite deli will be great because I've been eating at my desk my whole career," she laughed.
"I'm looking forward to it," Maureen agreed. "We've been in this space for seven years, so it'll be nice to get into something with fresh paint and carpet."
Richard added that his staff is also excited about their new digs. "The Light Rail is right near the new office, and there's lot of other neat stuff to check out."
The only downside to leaving their current space will be missing out on prime access to free summer concerts. Every Tuesday during the summer, bands play in the park right across the street; many Denver teammates head over after work to take in the tunes. "It really is cool," Maureen said. "We'll have to take advantage of it since it's our last summer here in this building."

Keeping the morale up amidst all the change
Paul took the tribal team in late April to the Top Golf driving range before their big July 1 push. Then, in the first week of July, they hosted a Survival BBQ. "It was a good thing to bring the group together to celebrate the 7/1 changes," Paul said.
Above Photo - Top Golf - Left to Right - April 2016 - Carol Kats, Lori Hall, Cindy Paulsen, Ashley Gronquist, Kerry Daly, Melissa Claypool, Bob Hallameck,
Paul Boehm, John Sodia. Photo to the right - Top Golf - Left to Right - Uri Salcedo, John Sodia, Paul Boehm, Bob Hallameck
The office typically holds a summer event every year such as a Colorado Rockies baseball game or bowling. One year they attended a murder mystery dinner, where employees were chosen to act in the play, Maureen said. "Mark Gaarder solved it! The acting in the office was pretty great. One person from our office was the one 'murdered' and they put on quite a show. Such great acting! Thankfully they haven't left us for Hollywood."


Maureen has also hosted Kentucky Derby parties at the office, complete with big hats for everyone to wear, but unfortunately, no mint juleps.

Melissa added that they definitely enjoy time together. "It might be a quick happy hour, a concert or a charity event that brings us all together. But we try to do something to keep up the team efforts."

Janet Walker - 'Dying' for Murder Mystery Dinner
Charity is the other name of the game in this office
Melissa is on the Charity Committee and has taken the lead organizing Denver's charitable events. Her involvement began last year when a teammate told her about a young girl named Daisy in nearby Aurora who was diagnosed with cancer.
"You hear these stories and you want to help," Melissa said. "But it's so much more powerful to help when you have a whole office behind it."

That kickstarted the office participating in Hope for Daisy supporting young Daisy, a local Aurora girl diagnosed in 2013 with a rare and serious form of brain cancer called Medulloblastoma.

As their 2015 fourth quarter charity initiative, the Denver team raised $650 by check donation and held a pizza fundraiser to help fund a playhouse to be built in Daisy's backyard. "We also made meals delivered to the family by a local vendor who donated their time," Melissa wrote in an email.
They kicked off 2016 with two fundraising events - but this time it was their own they were taking care of. Receiving devastating news that his father was diagnosed with cancer, Claims Supervisor Ethan Swancer was needed immediately back home in Pennsylvania. Within hours they raised $480 between Penny Wars and coworkers buying a jeans day at work. And then, when they heard that Accounting Rep Stephanie Ackermann's son was battling Rhabdomyosarcoma, a rare form of cancer, they created a Super Bowl pool raising $1,100 for Stephanie to be able to take her son somewhere fun to get his mind off of the treatments.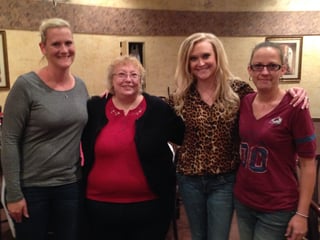 Left Photo: Penny Wars! Right Photo: Left to Right- Kerry Daly, Carol Kats, Melissa Claypool, Terri Bowden
In second quarter 2016, Melissa set up fundraising for REEL Recovery, a fly fishing retreat for men with prostate cancer. Coworkers bought jeans days and raised $815 to send one cancer male patient to the retreat.
Third quarter charity efforts in all offices within the Arrowhead organization focus all of their fundraising efforts on the winner of the 2015 charity award winner. In this case, it's Scott Marshall's charity of choice, The Children's Heritage Foundation. Employees are donating their time by making breakfast burritos that they're selling in the office to raise funds.

"Hands down I feel better helping with the local charities because I know 100% where our efforts are going," Melissa explained.

Breakfast Burritos ala Melissa Claypool
"There's so much help that can be done locally and if you have an office behind you it's a lot more powerful."
Your go-to visitors guide
Charity fundraising isn't the only thing this team is giving. They're also offering advice for anyone who visits the Denver area. Here are their recommendations of what to see and do:
Maureen: We are a sports city. After all, we're the home of the Super Bowl Champs! Broncos tickets are very expensive but if you can score them definitely go. They're a lot of fun and the fans are crazy!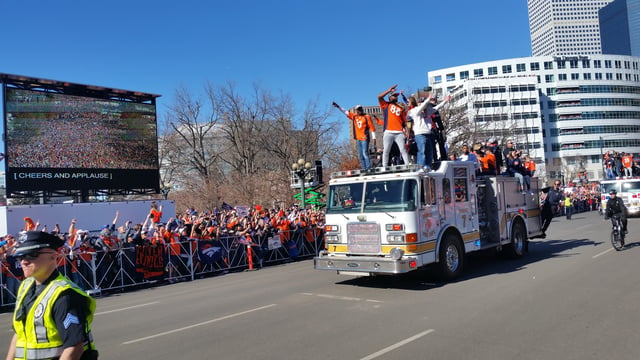 2015 Super Bowl Champs - Downtown Denver Parade
Richard: Downtown is very popular and growing like crazy. Union Station and Rhino are hot spots; be sure to check out local craft breweries popping up everywhere. Denver's a huge cyclist town and has lots of groups you can ride with. Also try Trail Ridge Road through the Rocky Mountain National Park. If you have time, get off the beaten path and go camping, hiking, skiing or fly-fishing.
Melissa: Check out Casa Bonita in Lakewood. They've been featured on The Food Network, not particularly for their Mexican food but rather the cliff diving show. That's right, cliff diving! They also have an arcade and cave in their 52,000 square foot restaurant. Then head to Glenwood Springs for their huge outdoor mineral pool. And definitely check out the annual hot air balloon festival in Steamboat Springs.
Paul: Go to a concert at Red Rocks. To experience the mountains, there's plenty of camping or great resorts; you can go hiking, white water rafting and snowshoeing. For city life, head downtown to the trendy neighborhood, Lo-Do. His go-to restaurant is the famous steak house, Shanahans (owned by the former Broncos coach) where you can check out the Super Bowl trophy and rings. If you like margaritas, head downtown to The Rio. The margaritas are so good (and strong) that they cut you off after two, he says.
---
Thank you for visiting the Denver office. Tune back in next month in August when we end our summer road trip with a visit to our California offices.