Hailstones the size of softballs. Cars looked like they'd just survived a demolition derby. Roofs on homes had craters and windows were shattered.
It sounds like a movie scene, and North Texas residents no doubt wish it was. Instead, it was two major hailstorms, back-to-back, just two weeks apart, accompanied by several lesser storms all around the state. When all hail broke loose, ACM and NCC teams moved into place to process those claims as quickly as possible, to get storm victims back on their feet and on the road.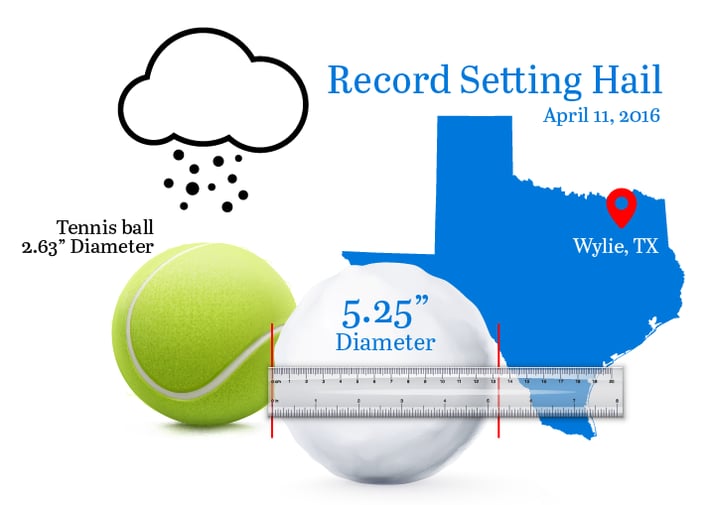 The road back from hail was paved with ACM and NCC help
"Our teams in Tampa and Carlsbad worked a lot of overtime in the aftermath," recalled Tim Allen, ACM vice president, property. "Right after the storms, we asked our team members to come in and make contact with all the customers. That immediately meant two weekends."
"How did we survive? Lots of caffeine. We brought in breakfast those weekends; later we catered some lunches: pizza, sandwiches, even an elaborate taco bar one day. Another day we had an Italian theme going with pastas, salads, breadsticks – but no wine, because that would've just slowed us down," he quipped.
In addition to ACM's Property Claims Division, NCC staff was called in to direct their field adjusters onsite. They brought in adjusters from as far away as California, Florida, South Carolina and Virginia. Several adjusters were deployed for four weeks due to the multiple storms that hit the areas.
"The NCC team went into CAT mode for these storms," noted Betsy Rogers, NCC's sales and marketing manager. "It's all hands on deck, with everyone pitching in anywhere to get the job done. Like most adjusters, these storms get us excited to service our clients – it's what we do!"


"It's a catastrophe!"
To put these storms in perspective, ACM has handled more than 8,000 claims so far in 2016, half of which were catastrophe events. By this time last year, they had handled far less: 5,000 claims, 2,000 of which were at a CAT level.
"A catastrophe is an event that is labeled by ISO based on the claim volume it is likely to generate. We've seen, both this year and last year, a very large increase in volume over what we would normally be handling," explained Dhara Patel, ACM president, property & casualty. (ISO is the industry's benchmark for data, analytics and services.)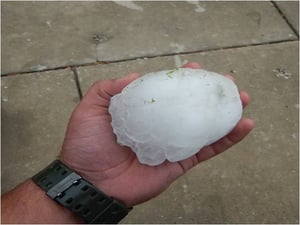 The two big hailstorms in Texas comprised 2,100 claims, but there were about 15 other smaller hail storms that made up the rest of that 8,000 total. Most of the catastrophe activity in 2016 has been Texas hail and windstorm claims, Dhara said.
"One home near Dallas experienced about $100,000 in damage," Tim recalls. "The windows were all blown out by large hail, letting in wind-driven rain and causing extensive water damage. The roof needed to be totally replaced as well as the fence and other outdoor items. It was so bad that we had to put the family up at a hotel for a few weeks while the repairs were under way."


All hands on deck
With a total team effort, ACM has already closed the majority of the cases. Tim notes ACM's innovative approach to staffing for these events, which was crucial to their fast response: "Florida is rich with insurance retirees; a lot of them are happy to come in and help us for 30 to 60 days at a time. They are very qualified; in fact, many of them were in management when they retired. We now have developed a small network of 'Storm Troopers' that we've called on during the past three years. They're already trained and know our systems, and they prefer working with us because of our flexibility. The customers also benefit from their wealth of experience and service skills."
Betsy Rogers at NCC recalls they had 50 adjusters on the scene, not only in Dallas/Fort Worth and other parts of North Texas, but also in San Antonio, Austin and Houston, where lesser hailstorms wreaked havoc. While they had to bring in out-of-state adjusters, two-thirds of them were from either Texas or Oklahoma, and worked more than a month, handling more than 2,000 claims from a string of multiple storms that seemed like they'd never end. The NCC team was able to return 90 percent of the claims to the client within 30 days.
"It took a solid team effort for several months," Tim noted. "And our teams did an outstanding job. Laurel Gilmore in the Carlsbad office received the most compliments from customers due to her warm and friendly nature, and Eva Gilmore (no relation) in Tampa came in at 5:30 a.m. for several weeks, closing more claims than anyone else. They definitely deserve extra thanks for their efforts."
Want to add excitement to your life and join this merry band of storm chasers? The ACM Property Division is looking for a Carlsbad property manager and a homeowner's adjuster in either Tampa or San Diego. Contact Tish Masucci for details.