We're kicking off our company's summer road trip in the Southeast and featuring our two offices – Tampa and Alpharetta. Let's meet the people who make these places hum and find out more about their regions.
Tampa's claim to fame:
Miles and miles of beaches stretching around Tampa Bay
Home to the Buccaneers and ACM's Personal Property Claims Division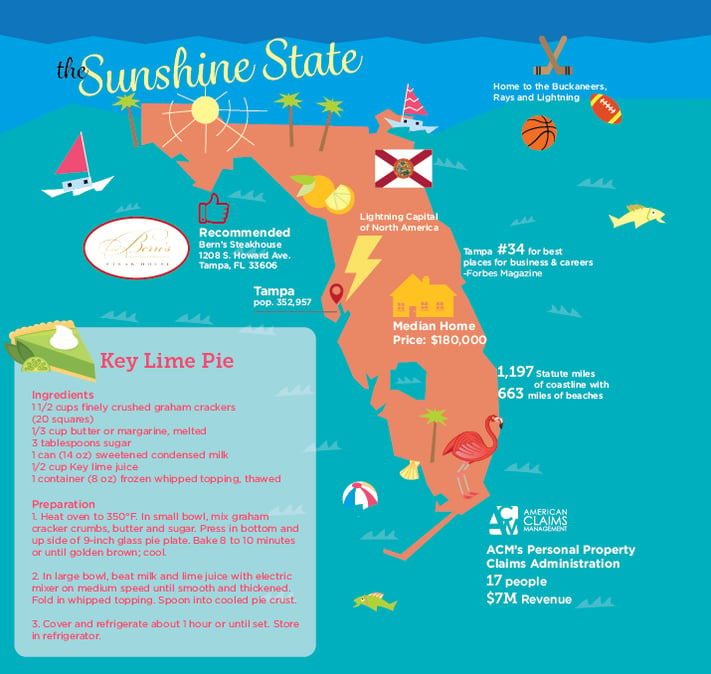 How would you like driving past all the beachgoers, sailboaters, Sea-Dooers and other vacationers on your way to work every morning? That's all part of living in Tampa, one of the top resort destinations in the U.S., and home to the Personal Property Claims Division of American Claims Management (ACM). Hats off to you guys for turning into the parking lot every morning, rather than into the marina!
Tampa boasts the exciting Busch Gardens and colorful nightlife at Ybor City, developed by Cuban and Spanish cigar-factory workers at the turn of the 20th century. Several pro sports teams make their home here, from the Buccaneers and Rays to Lightning (pro hockey). And of course, the beaches, mentioned by every employee we talked with.
"We have some of the best beaches in the world," said Claims Examiner Robert Stone.
"White sand beaches are less than an hour away, some of which are consistently ranked best in the world by Conde Nast," added Tim Allen, ACM's vice president, property.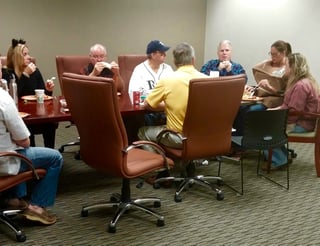 Right now, unfortunately, the 17-member Personal Property Claims crew has little time for the sunshine: They're inundated with claims from the recent double-whammy of Texas hailstorms. Seven temporary employees have helped with the phones that are ringing non-stop.
Their office is 20 miles east of Tampa in Highland Oaks Office Park, surrounded by huge Grandfather oak trees dripping in Spanish moss. "It's a great area to take a quick break and go for a walk," Allen commented. Those "Grandfather Oak" or "Grand Oak" trees are very old trees that have withstood years of windstorm and hurricanes, and are protected by government regulations, with trunks measuring at least 34 inches in diameter.
Grand Oak trees outside of ACM Tampa's office.

Together with their sister group in Carlsbad, California, ACM's Personal Property Claims Division accounted for $7 million in revenue in 2015. It looks like the group is on track to top that in 2016, with their current workload.
When they can breathe again, the team likes playing together. Last year they had a Halloween party, a holiday luncheon at The Capital Grille and a bowling tournament with awards for the best throw, worst throw and most artistic throw.
If you love rain, Tampa is also the place to be, with over 46 inches per year. On the plus side, average year-round temperatures range between 65 – 82 degrees.
Ready to join the Tampa team? Here you'll find a median home price of $180,000, but the market is definitely heating up. Cost of living is great, just barely above the national average (by 0.4 percent). The city is on Forbes' list as #34 for best places for business and careers. And if you ever grow tired of the beach or Busch Gardens, there's also the Florida Aquarium, Lowry Park Zoo, Clearwater Marine Aquarium, the Museum of Science & Industry or the colorful Chihuly Collection.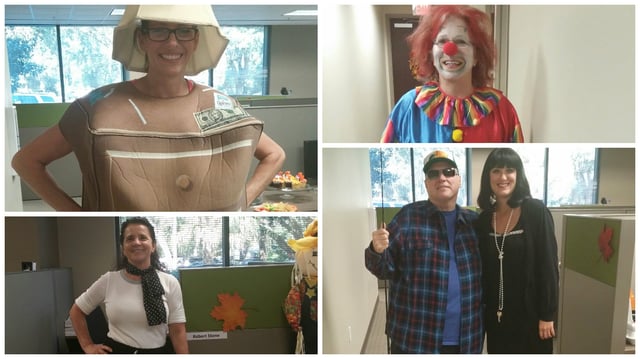 Here are a few other questions we asked the Tampa team:
What's your #1 favorite thing about Tampa?
"The beaches."
"The weather."
"Cuban sandwiches. If you don't know what that is, watch the movie 'Chef'."
What restaurant should everyone try in Tampa?
A unanimous vote: Bern's Steakhouse. They have the world's largest privately owned wine cellar – a great place to lose yourself after 10 straight hours of claims work. After dinner, be sure to head upstairs to the Harry Waugh dessert room, with 50 dessert choices and more than a thousand dessert wines and spirits.
What's the #1 thing newcomers mention about Tampa?
"The weather."
"A new manager who moved here from Texas said yesterday, 'You never told me Tampa is the
lightning capital of North America.' Well, our championship hockey team is named The Lightning for a reason!"