San Francisco: The newest kid on the block
Our newest office is in San Francisco, at 564 Market Street, Suite 225, in the Financial District. Located between One Bush Plaza (the Crown-Zellerbach building) and Crocker Galleria (a great place to spend your lunch time – and your paycheck!), the office is right across the street from a BART station, in case any of the three employees don't feel like fighting traffic that day.
That's right – just three employees right now. And they're so swamped that we'll come back and visit them at a later date. The office is headed by Caroline Barwick, EVP and chief underwriting officer for DIC's Risk Management group. Other team members include Adam Berger, AVP, production underwriting and Galia Goutinova, associate underwriter.
San Francisco little-known facts:
Second most densely populated U.S. city, after New York City (that's not the same as second most populous city - that would be L.A.; we're talking people per square mile here)
The Presidio and Mission San Francisco de Asis were founded the same year as the signing of the Declaration of Independence: 1776
Home of hippies, the Peace Movement, the sexual revolution of the '60s and the gay rights movement
Headquarters to: Levi Strauss & Co., The Gap, Salesforce, Dropbox, Dolby, Airbnb, Yelp, Pinterest, Twitter, Über, Mozilla, Craigslist and a lot more
Even though it's nicknamed "Fog City", many other cities have more fog annually: Portland, Seattle, Providence RI, Richmond VA and even Washington D.C.
Median home price is upwards of $1.1 million – and that's for a two-bedroom, one-bath, 1,200 square-foot town home
"Summer" arrives late - Sept. or Oct. – so if you go in June or July, take a jacket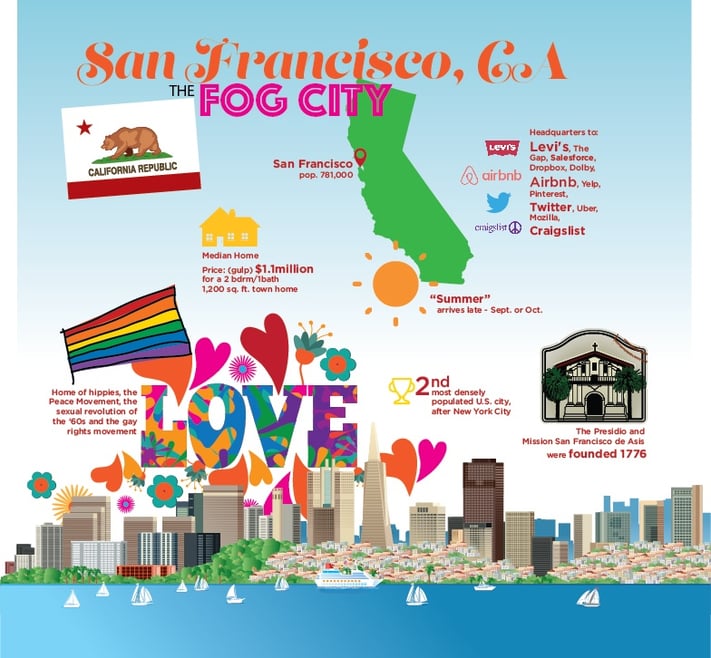 To give you a better idea of where our office is located, Union Square is just five blocks west; the iconic Transamerica Pyramid is just a few blocks north, and The Embarcadero is a short walk northeast. To catch a Giants game, it's a straight shot down 2nd Street. If you're ready to play tourist, check out this Time magazine article.
And if you're thinking about moving your heart to San Francisco, stay tuned: once we can pin down this group for an interview, we may find out that they have hiring aspirations!