Back in May, we started our summer road trip series by visiting all of our offices around the country. We started out East and made our way West and now here we are, at the end of the summer, ending our tour at the Arrowhead and ACM HQ in downtown San Diego.
Our goal these past few months was to help bring our teams closer together by way of virtual visits. We hope you all enjoyed our trip and we look forward to catching up again with all of the offices later on in the year. But now, let's dive in and meet the teams based in our San Diego office – and there are a lot of them, so let's get started.
San Diego is famous for:
Average temperature of 63 degrees and 10 inches of rain
Nicknamed America's Finest City
1.3 million people
8th largest city in U.S.
2nd largest city in California
San Diego incorporated as a city in 1850
San Diego produces the most avocados in the U.S.
128 brew houses and 20 satellite tasting rooms in San Diego County
City with most farms in the country – 7,000!
The city imports 80-90 percent of its water
Never won a World Series or Super Bowl title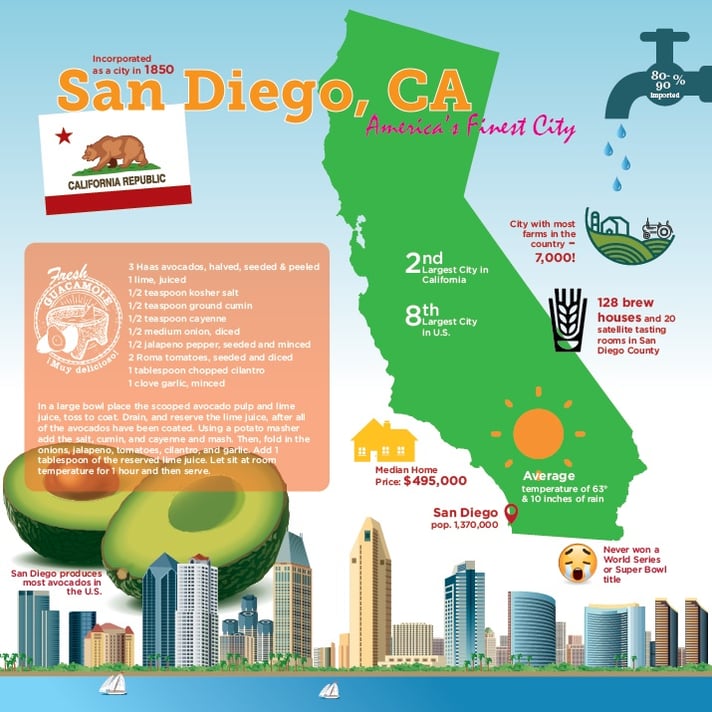 Damn that sunshine!
It's probably a good thing the San Diego office is located in the last time zone in the continental U.S., because when 5:00 p.m. hits, these folks are out the door and not easily reachable by the other offices. But can you blame them? After all, the United States Weather Bureau describes San Diego's weather as the closest thing to perfect in America. That means your fellow coworkers want to first get outside and enjoy the weather before heading home to their super high-priced apartments or homes.
As it happens, you get the bad with the good living in America's Finest City. Yes, you get the delightful year-round weather but you pay for it in other ways. San Diego residents lovingly refer to this to as the "sun tax." It's not a real thing, but the people feel the financial pinch here because the cost of living is so high, yet the salaries don't necessarily correlate as they do in other expensive cities such as San Francisco or New York.
Just how expensive is the cost of living in San Diego? Well, the average home price stated by CoreLogic last month was $495,000 and the median price of a newly built home was $659,000.
"High home prices are going to be a fact of life for San Diegans since the supply of housing is so limited and our population and employment continue to grow," said Mark Goldman, a finance and real estate lecturer at San Diego State University, in a recent article for The San Diego Union-Tribune.
It's sometimes a shame the houses are so expensive in San Diego because most of the time people are enjoying themselves outside. The lifestyle in this sunny haven features plenty of outdoor activities, which is due to 70 miles of beaches, two spacious bays, nearby mountains and yep – lots of sunshine.
Holy guacamole! We're talking about sunshine so much in this blog we should make a drinking game out of it. Okay, every time you read the words 'sun', 'sunshine' or 'sunny', drink! Just kidding – you're most likely reading this at work. But enough about how great it is in sunny San Diego, (DRINK!) let's check in with the teams!
Arrowhead's roots
Spoiler alert - San Diego wasn't the original Arrowhead HQ when Robert Hoye started the company back in 1983. It was actually located in Orange County, just north of San Diego County. But in 1984, Robert sold the company to Pat Kilkenny, and the office was moved down to San Diego. From there, the organization grew and had many different office locations over the years. Currently, the main office is located in downtown San Diego where the teams have the 14th, 20th, 21st and 22nd floors in the Merrill Lynch Building (MLB). 302 of our 780+ employees spend eight hours a day or more on those floors. That's about 38 percent of our company!
Back in the summer of 2006, Pat sold Arrowhead to a private equity firm called Spectrum Equity; then six years later, in January 2012, Arrowhead was acquired by Brown & Brown Insurance. At the hub of all of these business deals is the downtown San Diego office, where our corporate leadership and resource teams are based. This includes our executive leadership gurus such as CEO Chris Walker, President and COO Steve Boyd, EVP Steve Bouker as well as our HR and Payroll team, Corporate Accounting, Premium Accounting, Marketing Operations, Marketing Services, Creative and Communications, Information Technology, Information Systems, Actuarial and a growing Brown & Brown presence with the audit team.
The Arrowhead programs located in this office include Residential Earthquake, Workers' Compensation, Railroad and Difference in Conditions (DIC). The ACM crew is also here and houses the Workers' Compensation group as well as Investigation Solutions, Inc. (ISI) and the Marquee Managed Care Solutions team.
The person who can reflect the most from our San Diego offices over the years is Facilities Administrator Don Lehmer, who just celebrated his 30th anniversary with the company this past June. "When I started, there were 32 people on half a floor in one little building," Don recalled.
One of the biggest impacts on Don happened in the late 80s when the company was finally able to buy a building. "We got our first building that was our own and that really made a physical impact on me. When I saw the expansion of it all, I realized we're not just a little floor operation anymore. We're another building and another and another."
Don shared that his most memorable times were back in the 90s. "The seeds that were planted in the 80s started to grow, and by the 90s we could see that hard work flourish. It was just so great to see the hard work pay off."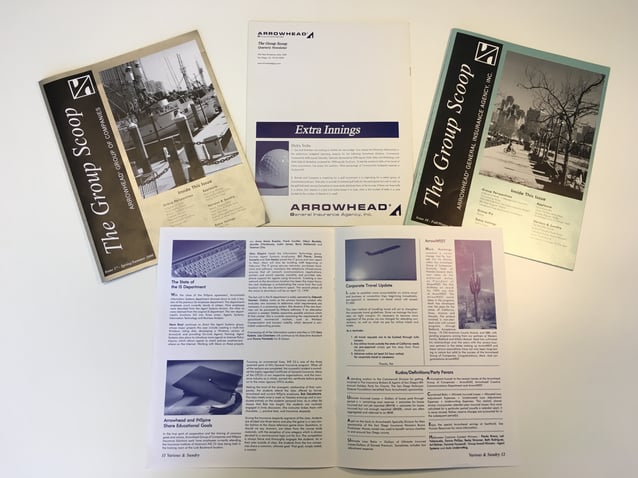 The old Group Scoop company newsletter from the late 90s



The downtown San Diego location merged two offices together (Koll and Emerald Plaza) in 2004 when it moved into the current Merrill Lynch Building.

Then, in 2013, a massive renovation began on all Arrowhead and ACM floors, and the Workers' Compensation team in the San Diego Mission Valley area was brought downtown. Finally, everyone was under one roof!

So the teams got crackin' to determine the best environment for the new space, and wouldn't you guess it – in a city full of sunshine, having natural light was the number one requirement from everyone. View the remodeling photos here but do note, you will need to view the site on the company network.
The character of the San Diego office
Every office has its character and the San Diego location no doubt exudes a professional, vibrant and peppy atmosphere. A lot of that can be credited to the new digs with lots of natural light and its bright color palette, but it's more than that. It's about the people who work here.
The people here are young – or young at heart – and know how to have a good time. Take their parties for example. The annual holiday parties, Halloween contests and summer picnics are legendary. And instead of writing about them, we thought we'd let the photos do the talking.
| | | |
| --- | --- | --- |
| | | |
| | | |
| | | |
| | | |
Charity is in their veins
It's not just special occasions that has this group of 300+ people rallying Monday through Friday. It's also one of the biggest groups of fundraisers in our family of companies who participate in charity events year-round.
Natalie Lara, AVP Marketing and Communications, explained how the official charity committee was established back in 2013 and how she became a member. "Steve Boyd wanted to form the committee in 2013 so he reached out to different people in the company that he knew were involved in other company events over the years." Natalie, having run a successful event two years running for Relay for Life, was a natural fit for the organization's new charitable endeavors.
Now a committee of six, they meet once a quarter to determine which charities they should support and what events would work best for those charities. They try to mix it up with volunteer events and donating items so it's not always focused on fund raising for money. This past July, the San Diego and Carlsbad offices hosted their first Summerfest which tied a lot of its events to their third quarter charity, Children's Heritage Foundation. Natalie said the most popular fund raising events seem to be the ones where the managers are humiliated. Case in point, at Summerfest, employees donated money to have managers wear baby costumes as they rode around a track on giant big wheels. The more money raised, the more embarrassing the costumes. (A few ended up in diapers!) Everyone was a good sport, and the event raised $2,521.

| | |
| --- | --- |
| | |
| | |
San Diego & Carlsbad Office Summerfest Party July 2016 - Party was held downtown on the Embarcadero on San Diego Bay

"There's a lot of work that goes into these things," Natalie revealed about planning charity events. "I get why some people want to pass along an idea to us instead of plan it themselves." She also noted that although the committee puts a call out to the masses for new charity initiative ideas, coworkers seem to be shy about making suggestions, which leaves them to do the brainstorming. "They do enjoy participating though," she said. "We just need more event ideas."
Natalie's favorite event has been going to the local San Diego Ronald McDonald House to serve dinner. "It's a Sunday evening of your time, and it's such a large reward for such a small sacrifice," she explained. She enjoys hanging out with her coworker friends in the kitchen while they prepare the meal. "We're chopping cilantro, chatting in the kitchen – just having a good time."
February 2016 - Arrowhead team preparing dinner for Ronald McDonald House

One charity event that has been a mainstay for the ACM team is its annual golf tournament for Rett Syndrome. According to the foundation's website, Rett is a rare non-inherited genetic postnatal neurological disorder that occurs almost exclusively in girls and leads to severe impairments, affecting nearly every aspect of the child's life: their ability to speak, walk, eat, and even breathe easily.
This past July, ACM raised over $6,500 in-house for Rett and then held its 13th annual golf tournament where additional funds were raised. (The team is still tallying!) Stacie Pirrone, Director of Operations for ACM, explained that she and many of her current ACM coworkers used to work together at another claims shop many moons ago. It was at that company that they had a coworker – a super lovable guy – who had two daughters diagnosed with Rett. They realized how little exposure this disease received and they collectively thought, "Let's do something to raise some serious money for them."
"

So it was decided that we would start a golf tournament,"

Stacie declared. "It was bumpy and it was hard those first few years figuring it all out, but we had a tenacious group of people. Now it's running a lot smoother." Stacie admitted that they all feel so invested in these girls' lives now, after having watched them grow over the past decade. This makes it difficult to walk away from continuing to help them, especially since ACM is one of the largest fundraisers for Rett in Southern California.

July 2016 Rett Syndrome Golf Tournament
"We have held the tournament for 13 years now. We've seen the girls grow and heard from the doctors at the tournament about how the year of research has been unfolding. It really helps us to see and understand where our money is going. Most importantly, we can see how the girls are getting help. That's an amazing feeling."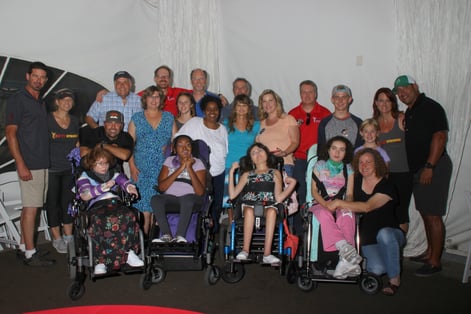 The Rett girls and their families who the ACM team have been fund raising for since 2003
Sadly, this past summer, they lost their first girl to Rett since their fund raising initiatives began. "It was a big hit for all of us. It was like a death of a family member.
When you experience loss like that it really makes you think, 'If we can save one more girl' – and you get ready to fund-raise and throw the tournament again."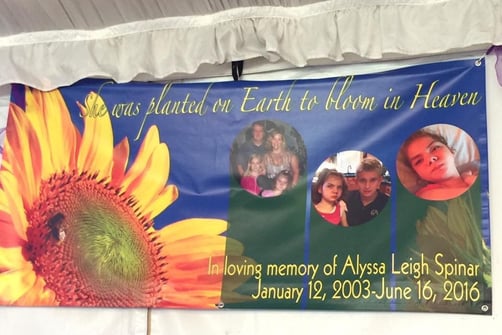 ACM and Rett held a dedication in honor of Alyssa Spinar and her family at the July 2016 tournament.
Alyssa, like all other Rett girls, are born and diagnosed within Rett Syndrome within the first year and a half of their life.
Knowing what is at stake and where their money goes ignites some truly amazing fund raising participation from the ACM team. "The most notable event was the pie tossing contest last year," Stacie said. "I think only because it was so messy and crazy. I couldn't believe we were throwing pies in a brand new office!"
CIO, Adam Nordost, throws a pie at COO & President, Steve Boyd. All in the name of charity!

The pie tossing aftermath in the Arrowhead 21st floor lobby just months after the renovation was completed.
All in the name of charity!
Stacie mentioned the other high volume fund raising events for the San Diego ACM team is: Casual Day, $5 lunches, candy grams for Valentine's Day, the coffee cart and vendors donating gift cards that are raffled.
Volunteer of the Year Award
For the past three years, Arrowhead has been presenting the Volunteer of the Year Award to employees who exemplify leadership in charity initiatives within their communities. Scott Marshall, SVP Arrowhead and president of OnPoint Underwriting, won the first year for his work abroad in Haiti for the Children's Heritage Foundation.

The following year, Deirdre Gonzalez, ACM's president of workers' compensation, won for her steadfast leadership for Rett Syndrome. Last year, Elizabeth Barton won after rallying tirelessly to help her dear friend and coworker, Helen Contreras battle - and beat - breast cancer.

Volunteer of the Year Winner 2013 - Scott Marshall for Children's Heritage Foundation
| | |
| --- | --- |
| Volunteer of the Year Winner 2014 - Deirdre Gonzalez for RETT Syndrome | Volunteer of the Year Winner 2015 - Elizabeth Barton for her friend, Helen Contreras |
Natalie wants to remind everyone throughout the company that employees in all offices are eligible for the Volunteer of the Year Award. The first place winner receives a sizable check to donate to their charity and a traveling trophy (kind of like the Stanley Cup, Natalie explained) with the winner's name from each year. There are also awards for the second and third runner-ups, too. The charity committee will put out a call for nominations in November; the winners will be presented with their award at office holiday and kick-off parties. "We welcome anyone getting involved and leading a monthly event," Natalie pleaded. "Technically you can nominate people all year long for the Volunteer of the Year. We just need nominations to be in by December."
Why do people like working here?
A new member to the Arrowhead San Diego office by way of Brown & Brown is the accounting team's regional operations manager, Nik Voss. He started in 2012 with Brown & Brown, working on the audit team in the Phoenix office. After a quick stint in the Santa Barbara Brown & Brown retail office, he found his way permanently to San Diego in 2014. So, what does Nik think of his new San Diego office?
"You can't complain," Nik boasted. "The location is amazing. San Diego is one of best cities in the country to live in."
He noted the interesting dynamic in the accounting team, as they have about 20 people all close in age (between 26-34 he guesses.) "I've never worked in an environment where so many people are available like that," Nik said about the after work happy hours.
They are now one big group of comrades and do quite a bit with each other outside of the office. Happy hours, birthday lunches and an ugly sweater bar crawl have all been on past agendas. Plus they have their annual team outing at the Del Mar races where they can put their accounting skills to the test and bet on the ponies.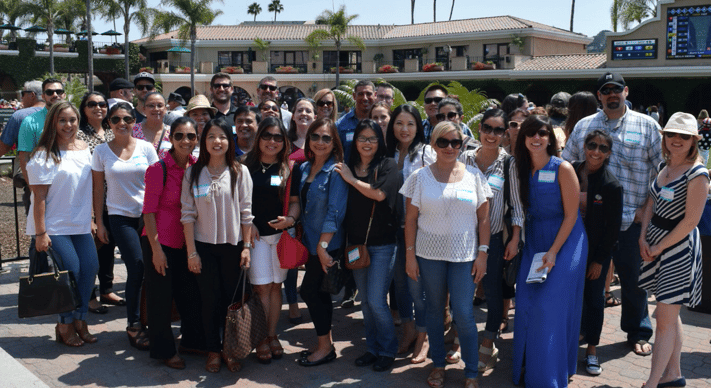 Corporate and Premium Accounting Teams (35 people+) at their 2016 Annual Team Outing at the Del Mar Racetrack
Another large team in the San Diego office is the Information Systems (IS) group. They are 35+ strong and sit in a sunny corner on the 22nd floor. Not that long ago, they nicknamed themselves The Minions after the adorable yellow characters from the animated movie, Despicable Me. Led by CIO Adam Nordost, Adam Sekanick, VP Information Systems and Innovation Operations Manager Ryan Izzo, their IS minions surprised them in 2015 for Bosses Day with a singing telegram. Watch their reactions to the customized song about the IS post day with a Chiquita Banana lady look-alike.
IS Leadership team - Left to right: Adam Sekanick,
Chiquita banana lady, Adam Nordost, Ryan Izzo
Natalie said she cannot believe she's worked here since 2004. "It's been 12 years but it has flown by." To have started in Marketing Ops straight out of college, she never thought that first job would turn into a long-term career at Arrowhead. "But I wanted to live and stay in San Diego, so this job helped that!" she joked.

To the right - Creative & Communications team outing 2015, Catalina Island
From left to right: Kelly McMullen, Duane Williams, Natalie Lara
Another team based in the San Diego office is the Human Resources and Payroll crew. They're tucked away in a low-key corner on floor 20. Even though the area might be quiet, these ladies are always busy bees as they handle the HR needs for a majority of our organization and work closely with the Brown & Brown Team Resources. Just recently, Payroll Supervisor Wendy Terry was surprised with an Above and Beyond award from the Brown & Brown summer leadership meeting. Wendy won a $500 lei and a slick looking crystal award seen below. Way to go, Wendy! And three cheers to the HR team for all that they do for our offices.
San Diego HR & Payroll Team - Front Row, Left to Right:
Vanessa McGonis, Wendy Terry, Cheryl Alsagoff and in the back Mitzi Schillinger

Wendy Terry, payroll supervisor, won $500 & an Above & Beyond award
from parent company, B&B
The spirit of recognition is evident in all parts of the San Diego office, especially on the 14th floor of MLB with the ACM office. Lalena Armstrong, claims manager for ACM Workers' Compensation, explained the many contests and motivational programs they hold for their team. "We've had baseball and football themed contests and motivational things like envelopes on the board in the break room." She further explained that the Take a Chance envelopes contained messages somewhat like a fortune that employees could select. "One that I'll never forget, because it was super funny, said to eat dinner in silence. People really took it to heart; they actually took the time to eat dinner in silence and reflect on their day without cell phones or TV," Lalena reminisced.
| | |
| --- | --- |
| | |
Another popular team building project Lalena talked about was a gratitude tree they made for employees last fall. "You could fill out a leaf and give it to a coworker. The note could say something like 'Thanks for helping me with that project or thanks for giving me that coffee.' It's just about expressing appreciation and making this a better place to come to everyday."
The ACM folks talked a lot about their coworkers being their work family. Debbie Palfy, director of program claims for ACM Workers' Compensation, noted that they've all known each other for so long, they're more of a family at this point. "We will often do a lot of things for the team like pay for the charity lunches or celebrate birthdays. It is really about creating a great environment for the employees. That's why we work really hard but play really hard, too."
Debbie elaborated that the new motto around ACM is that they're helpful at heart because service is the heart and soul of the company. "That goes with clients as well with each other," she said.
Love is in the air
Speaking of families, we actually have quite a few legit families in the San Diego office. There are four married couples and one pair actually got engaged at our holiday party a few years back. (Here's lookin' at you, Steve and Rochelle Goebel!) Not all of our couples met on the job, but kudos to them for spending that much time together, both on the job and off. Although, Wendy noted that she and her husband, Steve Terry, a customer service rep for the Workers' Compensation Program, really don't see that much of each other during the day. In fact, she said, they don't even commute together to the office. "He's on the clock and starts early," she laughed and explained she prefers to drive in a bit later.
| | |
| --- | --- |
| Steve & Rochelle Goebel | Jason & Lyndi Antic |
| Steve & Wendy Terry | Vineeta & Shvetank Choudhary |
We get it. San Diego is awesome. Tell us more.
This city with over 1.3 million residents is a mecca for tourists, hence why there are 34 million visitors each year, says the San Diego Tourism Authority. There's a dazzling array of world-class family attractions, such as the San Diego Zoo and Wild Animal Park, Sea World and LEGOLAND California. Other must-see places include Balboa Park, the largest urban cultural park in the U.S., which is home to 15 museums, numerous art galleries, beautiful gardens and the Globe Theatre.
Animals galore
Wendy and Steve Terry are zoo members and say it's totally worth it, especially if you go for a few hours. But for locals looking for something different from the zoo with a more hands-on experience with the animals, Wendy suggests visiting the animal sanctuary in Alpine, CA called Lions, Tigers and Bears. It's home to over 60 animals who have been rescued from the exotic animal trade. These animals include lions, tigers, black bears, bobcats, a mountain lion, leopard, African serval, Himalayan black bears, grizzly bears, llamas, horses, goats, sheep, chickens, a miniature horse, miniature donkey, peacocks and a macaw, the website declared. Wendy said she was given a feeding fork and was able to feed a tiger. "The animals love their treats!" she exclaimed.
Beer lovers rejoice
If animals aren't your thing, then hopefully beer is because this town should be called Brewery, USA. Only Portland, OR is holding San Diego back from that title but with 128 brewhouses, 20 satellite tasting rooms and 24 more breweries in the works, Portland will no doubt lose its crown any day now.
San Diego Beer Week alone is home to hundreds of events that will take place throughout San Diego County, starting with the San Diego Brewers Guild Festival. Most notably, however, is the San Diego International Beer Festival, which is the largest West Coast beer festival. Other gatherings include the San Diego Festival of Beer, San Diego Winter Brew Fest and the San Diego Beer Festival.
Wendy and Steve are also craft beer fans. And even though San Diego is an IPA town, Wendy's favorites include Saint Archer's Blonde Ale and Mother Earth's Cali Creamin. Their recommended spot for drinking said beers? "Panama 66 in Balboa Park has lots of local beers," Wendy explained. It also has a fun outdoor seating area smack-dab in the middle of The San Diego Museum of Art.
Foodies rejoice
You're going to need something to soak up all that San Diego craft beer, so hopefully you like Mexican food. Not Tex-Mex or some other wanna-be Taco Bell nonsense. Downtown San Diego is a 20-minute drive to Tijuana, Mexico, so you're darn tootin' this town has killer Mexican food. Everyone has their go-to place for burritos or street tacos, but Yelp reviewers consistently rank Las Cuatro Milpas, La Puerta (Nik Voss gives this place a thumbs up) and El Zarape as top picks. Locals who know better ignore the rave reviews and long lines at Lucha Libre after it gained notoriety because of that dude from Food Network, Guy Fieri, and his show Diners, Drive-Ins and Dives visiting there years ago.
If you're looking for something to eat with a bit more class than a rolled burrito, head to Juniper & Ivy in Little Italy. "It's a little pricier," Wendy admitted after recommending it. "It's not the type of place we go to all the time, but for a special occasion, it's wonderful." It's also a flagship restaurant from Top Chef winner, Richard Blais. Looking for something just as tasty but a little cheaper? Head next door to his casual outdoor dinning spot focused on chicken and eggs. It's called the Crack Shack, and you will not be disappointed.
Must-sees & things to do
The San Diego Padres may be hit-or-miss as a baseball team, but Petco Park is a lovely place to spend an afternoon or evening in San Diego's perfect weather. The location can't be beat since it's only a few blocks away from the San Diego office.
San Diego plays host to Comic-Con International every July, which brings out both crazy pop culture characters and celebrities to town. It's a must-do for locals to people watch in the downtown Gaslamp area.
Wendy shares her favorite spots for locals and visitors alike:
San Diego Symphony - right across the street from the office!
Bike riding paths - "Our favorite is around Coronado"
Hot air balloons rides in Del Mar and/or Temecula
Balboa Park Museums and Tower - now open for viewing - "Great views around Balboa Park"
Hiking near Julian/Cuyamaca mountains
Nik chimed in with his favorites around town even though, he said, it's hard to pick one thing because there are so many enjoyable things to do in San Diego:
Eat at Basic Pizza
His favorite bar is Werewolf downtown because it's not crowded
Loves to walk to the Embarcadero near the San Diego Bay
BBQs on the beach
Hike Torrey Pines - "That view you see is pretty surreal."
4th of July on the San Diego Bay is the best in the nation - "You see four firework shows simultaneously. It's pretty spectacular."
We think San Diego and this office with 302 teammates is pretty spectacular. Thank you to all who've read our 2016 Summer Road Trip series, and we look forward to bringing you more stories from all the offices and teams around the country.