Our summer road trip continues and has taken us out West where we are visiting with the seven folks who work in our Phoenix office running our Manufactured Housing Program. They've been part of the OnPoint Underwriting team but starting July 1, they began the rebranding process to the Arrowhead name. Let's check in with this small group who think of themselves more like family than coworkers.
Phoenix fun facts:
Population 1.5 million
Only state capital in U.S. with over 1 million residents
Averages 314 sunny days a year
Averages 7.6 inches rainfall
Average age in Phoenix is 32
Median home price is $192,000
Hottest temperature on record was 122 degrees 6/26/1990
Arizona has a professional hockey team believe it or not called the Coyotes
Arizona doesn't observe Daylight Saving Time
Chili declared official food in 1994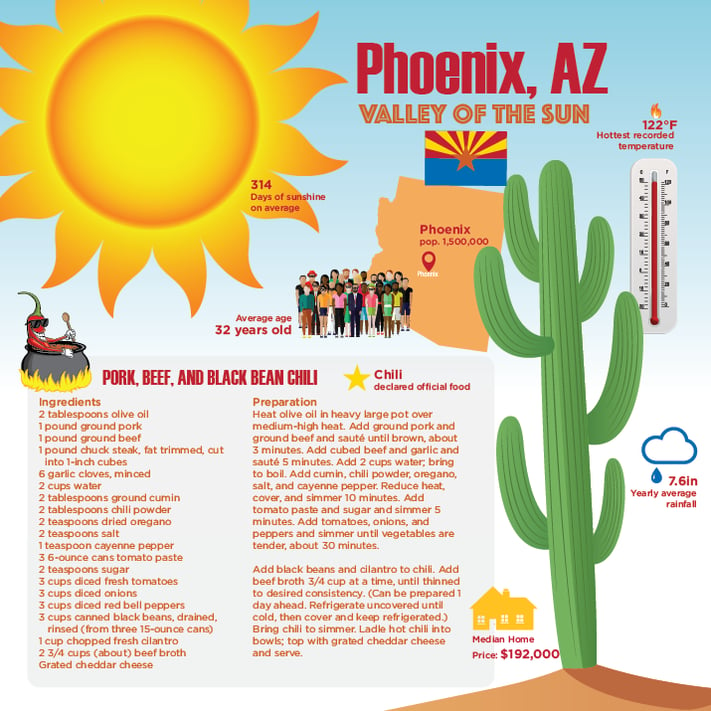 What's in a name? Lots of changes!
As part of the OnPoint Underwriting family (transitioning to the Arrowhead name), the Manufactured Housing Program is based in our Phoenix office close to the northern end of the Scottsdale area. Similar to their counterparts in the Denver office, they have experienced a lot of name changes over the years.
1976 - Started as a retail shop called Alliance Insurance Group

1997 - Sold to AJ Gallagher
1998 - MGU was created and was named Maui General Agency
2008 - Sold to Beecher Carlson and was placed under OnPoint Underwriting's management
2013 – Brown & Brown acquired Beecher Carlson; OnPoint Underwriting went under Arrowhead's management
2017 - OnPoint Manufactured Housing will begin rebranding its name to Arrowhead
In talking with Jackie Miller, vice president and operations manager and Mike Sheire, vice president and underwriting manager, it's evident that these two have been working together a long time and are clearly longtime friends.
Jackie came on board in 1990 and Mike in 1998. Currently, they are part of a seven-person team working in what they describe as a cozy space. That translates to 2,100 square feet where three people have offices and the rest of the team is split between the other two larger offices. Since they are moving at the end of this year, they hope to nab a larger space around 2,700 square feet, located closer to where they all live. Currently everyone's commute is 45 minutes to an hour.
"We only have a few highways in the Phoenix area," Jackie explained. "Our traffic is not as bad as California's, but it's still bumper-to-bumper every morning. Slow and go, as I say."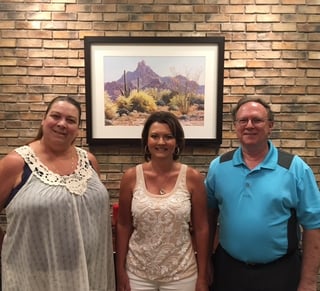 Kara Ramsey, commercial underwriter; Jackie Miller, vice president & operations manager; Mike Sheire, vice president & underwriting manager
The Manufactured Housing Program once shared a larger space with the Beecher retail team, but when Brown & Brown acquired them, the program side needed to be separated from the retail operations. So the Beecher folks were moved. "That was a big transition to go from 40 people down to nine," Mike said. "We had been working with a lot of those people for such a long time that they were part of our work family. We had been through all of those transitions over the years, so watching them leave was hard."
Scott Marshall, OnPoint's president, agreed the Phoenix office is a tight-knit group and very family-oriented. "They basically all sit in one room but they're very productive," Scott added, pleased with their ability to bring in more than $12 million in written premium.
Getting back to business as usual

The Manufactured Housing Program works with about 90 producers across the country. They moved to a new rating platform last year and are just now completing the task of rolling their business to that system. Jackie said everyone on the team has really stepped up by taking on added responsibilities with all of the transitions. "Kudos to everyone in the office for helping out with all the leaps and hurdles this past year," Jackie said. She laughed and added by now they are all used to having so many changes.

Tony Yonsetto, Assistant Underwriter and Lorie Howard, Account Executive

Teri Tremis-Bair, Account Executive and Dena Storm, Processor


Team outings & charity initiatives

With all of the recent changes, they haven't had much time to plan team outings. Despite how busy the team has been, they agreed it's time to get out of the office and spend more time together. In the past, they've gone bowling and played putt-putt golf at a nearby miniature golf course.

Another topic that came up in a recent staff meeting was the desire for more involvement in charity initiatives. They're planning a holiday event such as a canned food drive or being a Secret Santa for a local needy family.
Living the Southwest lifestyle
Jackie moved to Phoenix when she was in the first grade, so that pretty much makes her a local. Mike is also a longtime resident, moving to Phoenix in 1968 from Indiana. Back then, he said, it was all brown dirt and cactus with less than 500,000 people in the entire valley. He and his family moved to get away from allergies, but now the valley's three million people have brought in non-native plants - and allergens along with them.
They both agreed that they love their location because not more than two hours away they have access to mountains for skiing in the winter and lakes in the summer where they can fish and waterski.
"In the winter, everything is booming here," Mike said. "We have a lot of snowbirds who come to get away from the cold, but it's nice when they leave because traffic is lighter," he joked.
They laughed when asked about the "dry heat." "It's more like blowtorch dry heat," Jackie said. The hottest temperature on record for Phoenix was back in June 1990 when it reached 122 degrees. Jackie confirmed she hates the heat and heads to San Diego every year for the last two weeks in July. Mike, on the other hand, said he loves it. "He always keeps his convertible top down," Jackie laughed. "And I only play golf when it's 80 degrees or hotter," he chimed in.
If you're going to visit Arizona, Jackie said you must check out the city of Sedona, which is a two hour drive from Phoenix. Of course, be sure to visit the Grand Canyon. There's also a little town called Cave Creek that gussies itself up like an old country western town, with art festivals and rodeos.
Mike often takes his 12 grandkids in his RV up to the mountains and agreed with Jackie that everyone must visit Sedona. He also added Red Rock State Park and Squaw Peak (also known as Piestewa Peak), both great places to go hiking. He suggests starting at 5 a.m. though, when the temperature is still relatively cool.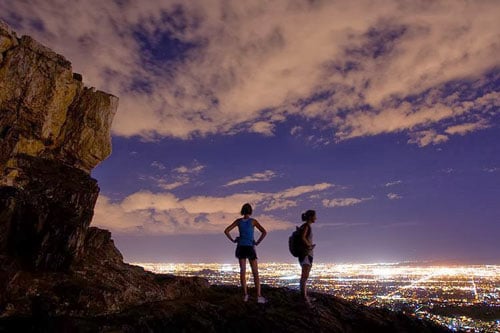 Photo credit: View From The Top of Piestewa Peak © Robert Body
Another hot draw to Arizona is its golf courses. According to GolfArizona.com, the state has over 300 courses with many of them in the Phoenix and Scottsdale area. (An insurance executive's dream!)
One of the largest golf tournaments in the world and part of the PGA tour is hosted every year just down the street from our Phoenix office. It's the Waste Management Phoenix Open, which according to the PGA had a $6.9 million purse this past year.
But the bigger draw to this tournament according to Jackie and Mike is the 16th hole. "It's the most famous in all of golf! It's a stadium with stands around it but it's really more of a party hole than anything," Jackie explained.
Construction of the 16th hole takes four months

The 16th hold features 200 Skyboxes, 5,000 general admission seats




and room for 15,000+ fans
The Scottsdale Visitors Bureau says fans of this hole call it the "Greatest Show on Grass." Stands that can hold nearly 20,000 people are set up every year at that hole; the party-like atmosphere is probably thanks to the many students from nearby Arizona State University who attend. There's also a wildly popular concert tent every year called the Birds Nest that's set up directly across from the main tournament entrance.
Jackie and Mike said they try to go every other year. Perhaps because golf is so popular with our insurance coworkers, it can become our go-to option for a fun client relations retreat. (Hint, hint.)
---
Thank you for visiting the Phoenix office. Tune back in next month in August when we end our summer road trip and visit our California offices.