Beaches, Brews…and Business
Our next stop on our summer road trip is Carlsbad, CA, "The Village by the Sea." Home to 112 ACM and Arrowhead employees, Carlsbad is a beachside city with a laidback vibe. Here you'll find great schools, good surfing, plenty of golf courses and golf club manufacturers – and Legoland. What you won't find, hopefully, is a resurgence of the wildfires that hit the area just two years ago, burning 26,000 acres.
Interesting things to note about Carlsbad
Nickname: The Village by the Sea
Average temperature: 47 - 64 degrees
Annual number of sunny days: 263
Population: 114,000
Median home sales price: $725,000
Home to Legoland
Famous Flower Fields
Microbreweries on Hops Highway
Huge surfing community
Setting up new roots in North County
Carlsbad is in the northern part of San Diego County and about a 40 minute drive from the downtown San Diego office. After ending a lease in an office further south in Sorrento Valley (the Lusk building), this brand new office was built in Bressi Ranch when Arrowhead's then-owner, Pat Kilkenny, wanted to be closer to Palomar Airport, which is a stone's throw from the office. The move happened in 2007 when initially the Arrowhead Wheels, Residential Earthquake and Personal Property teams moved into one building and ACM (acquired the same year) moved into the other. Since then, the Res EQ team moved south to the San Diego office.
Carlsbad Personal Property half-day at Carlsbad Lagoon
| | |
| --- | --- |
| | |
| Personal Property team at the lagoon | Renee Costa, Cristina Arechiga and Blane Bardsley |
| | |
| Mike Steward, Bianca Roomano, Crystal Million | :Lauri Thum, Mark Corey, Colin Bruce, Cooper Kypianou, former employee |
Currently, both ACM and Arrowhead have consolidated into one building and sublease out the other (with the exception of IT staff still located in the second building). And the 112 employeess have been very happy with the location in Bressi Ranch, a community of homes, shops, restaurants and offices. Vince Wallace, operations manager, lives just a mile away. He walks or bikes to work when he can, but with two kids, "I'm often playing chauffeur," he admits. He's also point man in the middle of the night when something goes wrong, such as an electrical outage or when fires raged in the area in 2014, causing the office to be evacuated and closed for a few days.
A nine-year Arrowhead veteran, Vince manages our mail center, along with a team of seven. They're in charge of all mass mailings: bills, statements, policies, direct mail ads, and anything else that goes out en masse. His team handles all the imaging into WPC, the program our underwriters use to view policies and communications with insureds. The group also handles large print jobs for the company.
"We're a central hub, whether it's for California-based business or based elsewhere," he explained. One of his team members, Dung ("Young") Banh, senior mail services support, has been with Arrowhead for 19 years – and is just one of the employees with nearly two decades or more of service with the company.
Lorna Bouisseau, training coordinator and underwriting supervisor for personal property, has been with Arrowhead for 20 years. Originally a receptionist at Insurance Express, a separate company Arrowhead started back in the 90s but is now defunct, Lorna then moved into sales, auto underwriting and finally landed in property underwriting. Lorna now trains new hires and new promotees, creates training docs, tests new processes and just recently set up the Property page on Wiki as a further help.
The folks in this office have moved with Arrowhead several times: from Convoy Street in the Kearney Mesa area of San Diego, to two Mira Mesa locations, then Carmel Mountain, and on to Carlsbad in 2007.
Carlsbad Personal Property Summer Happy Hour
Jill Johnson, Gena Toves and Renee Costa

Erika Quiros, Cristina Arechiga, Mike Steward,
Lorna Boisseau and Bianca Romano

Jessica Rubright and Leticia Almaguer
Several departments and divisions now call Carlsbad home, including our Personal Property and Wheels Programs. Most recently the Marine team in Irvine, CA has relocated to the Carlsbad office. "We moved on Aug. 15 to Carlsbad," said Tim Grant, president of Arrowhead Marine. "The Irvine office is now closed." Three employees from the Marine team already live close by; the fourth will commute on occasion from Orange County, Tim said.
A number of support departments are also housed here, including Facilities Management, Information Systems, Mail Support, IT, Premium Accounting, along with small HR and Corporate Administration offices. ACM's Personal Auto, Personal Property, Commercial Liability, Commercial Tribal and corporate/administrative staff office are here as well, along with SRS Auto Subrogation and ISI Administration.
| | |
| --- | --- |
| | |
| St. Patrick's Day, L-R, Christine Corpuz,Ally McLean, Zulyka Thompson | Left to Rright: One Call rep (event sponsor), Eddie Barreto |
| | |
| Extra Life gift basket raffle | ACM Carlsbad's Service Rock Stars |

Giving back to the community
The office is active in charity events, supporting Rett Syndrome Foundation, San Diego Food Bank and Toys for Tots. Additionally, Christina Corpuz, Subrogation/MCCA Representative for ACM's Superior Recovery Services, participates in Extra Life Charity, a charity for gamers worldwide, from video gaming to tabletop, to raise money for Children's Miracle Network Hospitals. Last year, Christina helped raise funds for Rady Children's Hospital San Diego by gaming (and livestreaming) 24-hours straight, with supporters donating funds. She also organized a gift basket raffle in the Carlsbad office, with three gift baskets given away. This year she hopes to break the $1,000 mark.
The office location can't be beat
One of the best things about the Carlsbad office is where it's situated:
"On clear days you can see the ocean from our offices," said Michael Steward, underwriting manager - Personal Property. "It's a great place to take a lunchtime stroll, with lots of lunch options."
"Our office is in a great location," agreed Tomi Krok, lead imaging technician. "I'm 15 minutes from the office or 15 minutes from the beach. Sometimes, it's a hard decision!"
| | | |
| --- | --- | --- |
| | | |
Check out these Carlsbad beach shots from the cities' Instagram account.
With the beach so close, it's not hard to guess where everyone likes to spend their off time: surfing, walking in the sand and enjoying the cool ocean breezes. Running and hiking nearby trails came in a close second, as did ferrying furry friends to various dog parks for social time. Vince also plays and coaches soccer.
Everyone agreed their favorite thing about Carlsbad, besides the close vicinity to the beach, is the great weather and constant ocean breezes. High quality schools came in second. "Everyone talks about how great the weather is and how close the beaches are," both Vince and Tomi answered. Michael added, "Plus the laid-back vibe and all the choices of bars for happy hours after work."
"Carlsbad is in the middle of craft brewery 'hops highway'," Vince elaborated. Some 38 breweries and tap houses are within a five-mile radius of the office, supplying a never-ending list of brewskies to sample. There are even tour buses to take you to various locations as you "brew-crawl". Some of our favorite names: Belching Beaver, Rip Current, Prohibition, Dos Desperadoes and Booze Brothers.
What in Carlsbad should everyone add to their bucket list? "Wow – besides the beach and the breweries – I guess the Flower Fields, if you like that sort of thing," Michael replied. The Flower Fields are 50 acres of various flowers planted en masse on a Carlsbad hillside, visible from Interstate 5, in bloom March to mid-May, a favorite tourist spot.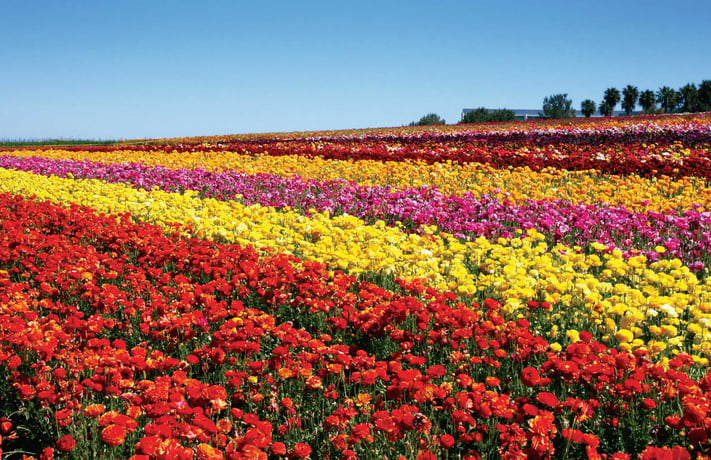 The Carlsbad Flower Fields bloom Mid March - Mid May and can be seen by Carlsbad coworkers driving in to work off Interstate 5.
Michael surveyed his team for bucket list ideas, then added renting a jet ski in the Carlsbad lagoon and camping at the state beach.
When asked which restaurants should we visit, several votes were cast for Pizza Port, a local brewery (yep, on that Hops Highway!). It's also well-known for the gourmet pizzas like "The Carlsbad," a blend of pesto, artichokes, grilled chicken, sun-dried tomatoes and feta cheese, or BBQ Bacon Cheeseburger, with seasoned meatballs, bacon, cheddar and mozzarella. On tap you'll find their own Sharkbite, Swamis and Black's Berry Beach (named after local beaches).
Also receiving votes was Senior Grubby's. "The owners are local, all of the food is amazing, and their street tacos are the best," said Tomi. Besides the street tacos, they have 20 kinds of burritos and shrimp by the pound, fajitas and of course, locally crafted beer.
Have we sold you on Carlsbad? It just so happens, we're hiring for an Auto field marketing rep and an ACM Auto supervisor. Contact Tish in HR if you're interested.
Just one more stop on our summer road trip - and that's at our main headquarters in sunny San Diego!