Our charity teams have been busy second quarter, raising funds for literacy and research for childhood diseases, and helping men diagnosed with cancer. Here's the latest from the various offices. And don't forget to check out our first quarter update here.

San Diego and Carlsbad
For years the ACM team has united to raise money for RETT Foundation. RETT syndrome is a rare non-inherited genetic postnatal neurological disorder that occurs almost exclusively in girls and leads to severe impairments, affecting nearly every aspect of the child's life: their ability to speak, walk, eat, and even breathe easily. To help the families and girls affected, our teammates have united to raise money. And in June alone, fundraisers netted $729 from Carlsbad's basket raffle and the downtown San Diego office's breakfast burrito and gift card raffle. (Editor's note on the breakfast burritos: Yum! Do it again, soon!) One more event, on June 28, is a box lunch and raffle ticket sale, so downtown San Diego folks, watch your email for delicious details.

"Don't forget the upcoming RETT golf tournament on July 29," said Stacy Pirrone, ACM's director of operations and our RETT point person. "Whether you'd like to enter the tournament or volunteer as a helper, please sign up here.

The annual San Diego/Carlsbad Summerfest, coming July 15, includes a Big Wheel Race for Charity, where teammates can donate to see their favorite executive leaders dress up as toddlers and race to raise money for Children's Heritage Foundation. The more money that's raised, the more embarrassing their costumes will become. Receive one raffle ticket for $5 donated or 5 tickets for $20. Please donate online and submit your receipt to Gina Crane prior to the event. HR will have your raffle tickets at check in*.
| | | |
| --- | --- | --- |
| | ii | |
Photos courtesy of Children's Heritage Foundation
Overland Park
We mentioned our Kansas group in our March charity wrap-up, with their success in raising funds for Make-A-Wish, which brought in more than $5,000 to send five-year-old Natalie to Disney World. Here are a few photos of their fun below. Read more about the big hearts in our Overland Park office with their charity initiatives here.

Denver
The Rocky Mountain OnPoint Underwriting team surpassed their goal for Reel Recovery: their goal was to send one man to the fly fishing retreat at a cost of $750, and they raised a total of $815, with penny wars and jeans on Thursdays.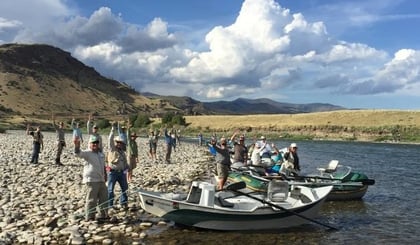 Photo courtesy of Reel Recovery
Do you have a fundraiser or volunteer event in mind for your office? Contact us at CharityCommittee@ArrowheadGrp.com.

Remember, employee participation is entirely voluntary and not required by Arrowhead, American Claims Management, OnPoint or Bellingham.